A Christmas gift of confidence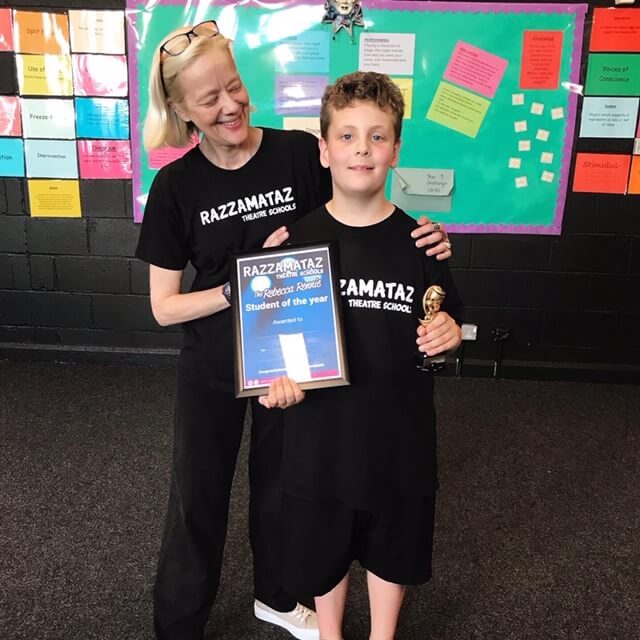 This holiday season give the child in your life a gift that could potentially change their lives forever. Another plastic toy or tech gadget will offer momentary joy but a gift to inspire creativity and build your child's confidence is something that will last a lifetime.
The confidence gained from learning performing arts skills will help children in every area of their life now in school and in their future careers. Participation in dance, drama and singing have numerous benefits including helping young people to think outside the box, which enables them to be more confident going into unfamiliar situations. Students learn to trust their ideas and abilities and try new things, with the support of their teachers and class mates who will be on their own journey of discovery.
To help give the gift of confidence, Dragons' Den backed Razzamataz Theatre Schools are offering gift vouchers to allow children to experience the performing arts classes. Adults can purchase the gift voucher to give a term's experience and allow the student the opportunity to discover the positive impact that performing arts can have on them and their family.
The positive change in students through performing arts is one of the most joyful parts of being a Razzamataz Principal as Denise Hutton-Gosney, MD and Founder of Razzamataz explains: "Throughout our 20 years' of teaching children, we have seen such changes in students and it's been a pleasure watching them flourish and grow in confidence. It's a privilege to be part of their lives and see how they benefit from each experience that Razzamataz offers them. They shyest child can come to us at four and turn into the most confident young person, anything is possible with support and exposure to opportunities."
Throughout the Razzamataz schools, there are many examples of how children are benefitting from the care and attention that Principals and the staff are providing.   
Riley joined Queens Park in January 2018 aged eight along with his carer. He was incredibly reserved and found it difficult to take part in the lessons. Victoria sat down with her teachers to try and devise a way to get Riley to open up a bit more. The team decided that the best way was to allow him to participate in the portions of the lessons that he was comfortable with and praise him for doing so; each time encouraging him to do a little bit more. 
"From the very first taster session Victoria has been welcoming, encouraging and positive," explains Riley's mother Carol Bowden. "I have had the privilege of watching my son grow in confidence, co-ordination and ability over the past two years. This amazing team of people have helped transform a shy and reserved little boy who once struggled to join in with the activities, into a positive, confident, up-for-anything child." 
For Liam at Razzamataz Maidstone, joining on a scholarship in 2016 with bags of potential, was life-changing. Things have not always been easy for Liam as his foster carer Ashley explains: "Liam came to us in August 2016, as our first foster son," explains Ashley. "He has had a difficult start to life coming into care at the age of nine. He had several placements before coming to us and when he came, he was very shy, didn't have much confidence and didn't really know who he was as a person. He struggled at school with pressures from his peers and being bullied. The start of his time with us, Liam never wanted to leave our side and wouldn't go anywhere without us. Then Razzamataz came along and it was a massive step forward for him having to be left on his own and starting something new. I remember when I picked him up the first time he had a massive smile on his face. He started off as a shy boy, but the confidence has grown since he been at Razzamataz and he has become a true star. He has a family at Razz and made some great friends, and a place I believe has changed his life, given him confidence, individuality and self-belief and made him a much stronger person."
In fact, Liam progressed so far that he has recently been accepted into a local performing arts college and his confidence and technique continues to grow.
"When I started at Razzamataz I was very embarrassed to perform in front of the whole class but after a while my confidence grew," says Liam. "I have made a lot  of friends and we are there for each other. I have also improved on my performance and I can now stand up in front of the whole class." 
Razzamataz is gearing up to celebrate 20 years in business in 2020 with a special Conference held on 20 January 2020 at the stunning Atmosphere Venues in Millbank, London. During the Conference, the team will be celebrating many of these successful stories from both students and Principals.   
Selected potential franchisees are being invited to attend, giving them a chance to meet Denise and the Head Office team and to find out more about running a theatre school including how the Razzamataz brand supports all students and franchisees.  
We are particularly keen to recruit in Scotland; specifically, Dundee and Aberdeen and Wales; specifically, in Cardiff and Swansea and we have a resale opportunity in Hackney and Paisley. For those looking for a part-time enterprise, the Early Years Franchise has been created to cater to the demand for people wanting to work in the children's performing arts industry but who do not have the relevant experience to launch a full Razzamataz Theatre School.
Contact us NOW for a fabulous 50% off the franchise fee, first term management fee free PLUS we pay your VAT. Just quote PR2020. Offer available till end of December.
Due to demand, more training is planned for 2019 and 2020. Contact our friendly head office team by Clicking Here.