About Us
Club Learning is an established and lucrative tuition service providing additional support primarily for children aged between five and sixteen years in the core subjects of Maths and English.  With the Government keen to boost results particularly in the areas of English and Maths many parents see the value in the Club Learning study system and  students have fun whilst learning.
The first Club Learning Centre opened in January 2013, following on from this success they have expanded quickly and now have 11 Centres and have plans to expand further by bringing new like-minded Centre Directors on board.
Why invest with Club Learning?
The Club Learning franchise is low investment, offers flexibility, the business can be run on a full-time or part-time basis, so the opportunity can be a great lifestyle fit.  You do not need to be a qualified teacher to join Club Learning, as Club Learning will provide the necessary training and support for you to run your Learning Centre.  Club Learning are looking for Centre Directors who have an interest in education, have good communication skills across the board and are self-starters.
The Club Learning Opportunity
The franchise fee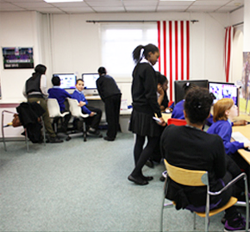 The initial franchise fee is £4,950.
What is included in the
Franchise

Pack
10 Laptops
Access to the Club Learning Study System
Exclusive Territory
Marketing
Full Training & Support
Free phone customer helpline
Central admin service handling all admin, billing, customer payments leaving you free to run your Centre
The Club Learning system works. See below for a selection of testimonials from happy Club Learning clients
" After we signed up, my son went from an E to a C in 6 months in Maths."
"I've never paid anything for online programmes before, but this works out much cheaper than using a tutor at home! There are teachers you can phone six days a week (5-8 weekdays and 10-1 Saturdays) who'll talk you or the child through anything they have problems with, and will use the interactive online whiteboard to explain things up to GCSE level."
"Leon has finally finished playing lots of games and thoroughly enjoying himself. About time education was fun again….really!"
Want to find out more about the Club Learning Opportunity?
Club Learning can offer flexible low start franchise fees and management only options.
Call +441258 446980 or view our Franchise Listing for more information on this exciting, fun and profitable franchise.