Dum Dum is an exciting and unique food franchise opportunity.   At Dum Dum we have patented our special formula to create artisan, baked speciality doughnuts.  Our products are made daily using high quality ingredients and distributed to our franchises directly from our central Donutterrie making daily operations simpler for our franchisee and reduce labour costs.  Therefore, franchisees outlets can vary in size from a small retail unit to a large coffee shop, the choice is yours. The team at Dum Dum are proud of their products, are passionate about perfection and are keen to recruit like-minded franchisees to become part of the Dum Dum's family.
The Dum Dum History…
Paul Hurley Dum Dum is the Brain-child of Doughnut chef Paul Hurley.  Globe-trotting Paul has travelled extensively working as a Chef in many different countries to develop and enhance his patisserie skills.
Paul's passion was to invent "The greatest doughnuts in the World".  Paul developed his innovation and patented doughnut method over a 17 year period.
Paul's attention to detail  for his indulgent creations have been rewarded and are a popular line at Harrods, Knightsbridge and other London outlets.  Dum Dum have expanded internationally with an outlet in Dubai, many more are planned to open in the coming months.   Paul has genuine passion for his thriving business and enjoys contact with his franchisees, Paul and his loyal team, many of which are family members are always on hand to provide support.
About Dum Dum Donutteries…
Dum Dum specialist retail outlets are called "Donutteries" they are stylish, welcoming and fun – ideal for shopping centres and other high foot-fall locations.   With well trained, enthusiastic staff our "Donutteries" are a great place to pick up an indulgent treat, or enjoy a gourmet "Nude Espresso" coffee made by a fully trained Barista.
At Dum Dum our philosophy is simply to produce "The Best Doughnuts in the World", on a daily basis. Each customer should have a unique, personal experience when they enter a Donutterie.  With an "open till sold out" policy at Dum Dum Donutteries consumers can be certain that the product they purchase will be fresh and tasty.
Dum Dum are looking to recruit franchisees throughout the UK & Beyond, that share our vision and passion for this exciting food retail franchise.
As part of our growing network, you must
be a team player
be prepared to share experiences
have a genuine desire to provide the very best service to your customers.
What are you waiting for?  Want to find out more about this dynamic retail food franchise? The team at Dum Dum will be delighted to chat about the business and answer any initial questions that you may have on the Dum Dum franchise opportunity call 0203 826 8309
Want To Join The Dum Dum Family?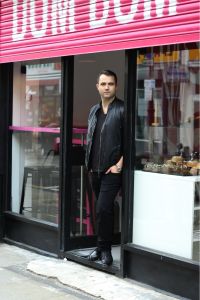 Above we touch on the inspiration behind the Dum Dum products.  Let's explore Dum Dum in further detail…
Paul is a highly experienced pastry chef, he travelled extensively to enhance his already enviable patisserie skills.  Paul's idea was to create a perfect marriage of continental patisserie and an American style doughnut.
Paul's desire to produce quality baked artisan doughnuts was increased by every failure.  Determined to succeed, Paul was tireless in his search for perfection. Paul will be the first to admit, a lot of dough and oil were wasted in his mission to create the unique Dum Dum product, that now grace his stylish Donutteries.
Paul researched thoroughly every aspect of the of manufacturing process.  He experimented with different oils for the doughnuts and whilst the doughnuts are baked, some oil is required.  Paul switched to healthier Sunflower oil rather than the cheaper alternative, Palm oil.  Of course, Dum Dum do not market their products as health foods, they are an indulgence to be enjoyed.
Paul finally had his eureka moment! He's believes he has created "the best doughnuts in the world" and his customers seem to agree.
Dum Dum's only use the finest quality natural ingredients to create their doughnuts.  Hence the "open till sold out policy" not a marketing gimmick, but a sound business decision to reduce waste as Paul did not want to compromise on quality, by adding preservatives.
Even today, Paul is regularly working along side his pattiserie team, experimenting with new flavours, techniques and seasonal specials.  The team strive for perfection with every Dum Dum they create, until Paul is truly convinced, the product will not hit the shelves.
The Dum Dum franchise is a vibrant, food retail franchise opportunity.  Working closely with Paul and the Dum Dum family, running your own Donutterie could be the niche area of food retail that you have been waiting for.  With no baking on site – the products are delivered fresh daily from the Dum Dum pattiserie to  your Donutterie, what's not to like?
With growing interest in this unprecedented food retail franchise, what are you waiting for? To find out more complete the contact form or call 0203 826 8309