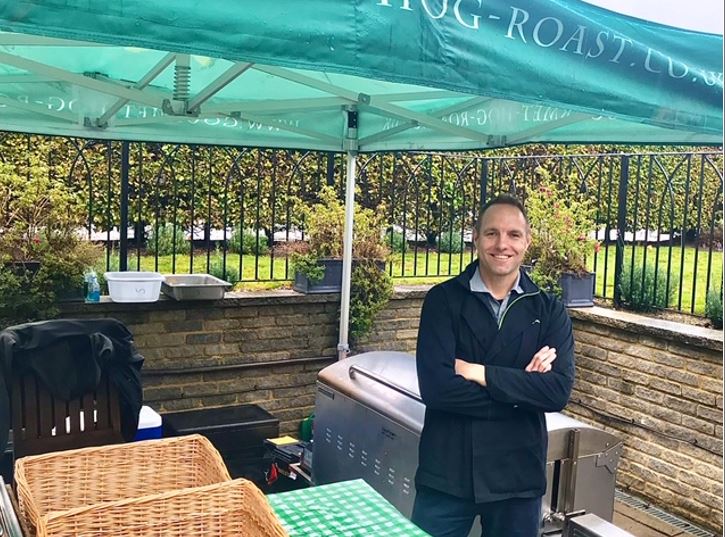 Gourmet Hog Roast Company Launches in Hampshire
The Gourmet Hog Roast Company, a brand known for its delicious hog roast hire services, has announced the launch of its next franchise, providing greater coverage across the UK. Scott Smith will be heading up the Hampshire team for an initial five-year term, with the success of the company continuing to grow.
Nick Warlow, one of the founding members of The Gourmet Hog Roast Company, has shared his delight in announcing the launch.
"We're incredibly excited that Scott Smith has joined us, taking our authentic hog roasts to customers across the Hampshire territory", states Nick. "He'll be taking bookings for corporate events, parties and weddings in areas such as Southampton, Portsmouth and Winchester, to name just a few of the localities he's covering."
Scott used to work as a project manager in financial services, but the Gourmet Hog Roast team have trained him up to help him have the lifestyle he wants. He's an ideal fit for the brand, which provides hog roast catering to local businesses, engaged couples and event planners. Scott's South African roots mean he'll bring some irresistible flavours to the Gourmet Hog Roast menus, offering customers in Hampshire reliable catering services for all types of event.
Scott chose to work with the Gourmet Hog Roast franchise thanks to the range of benefits on offer to talent such as himself. As an established brand in the outdoor catering arena, those hoping to become a franchisee get the support required to stand out from competitors operating in the area, including their own website, leads and back-office support. All bookings are organised by the franchisor, so there's no need for any prior sales experience, and you won't need to chase for more work.
Many chefs are turning to businesses like the Gourmet Hog Roast Company to give them greater flexibility in the hours they work, all while getting the backing of an experienced team. With specialist training and mentorship provided, chefs can unlock the earning potential of running their own hog roast business and can expect to be profitable from Year 1. It's a model which can help them become as successful as they like.
The Gourmet Hog Roast Company specialises in providing some of the finest, free-range hog roasts, catering for weddings, BBQs, private parties and corporate clients. Anyone organising a wedding or event in Hampshire can work with Scott to put together a menu which is ideal for them, including canapes, a three-course meal, desserts and evening snacks. All hogs are sourced from high quality, approved farms and slow roasted onsite for around six hours on a special rotisserie. This ensures the crackling is perfect and the meat falls straight off the bone, carved and served by chefs to the delight of waiting guests.
To find out more about a franchise with The Gourmet Hog Roast Company, Click Here.