Home Instead secures another first in home care, as it launches TV ad campaign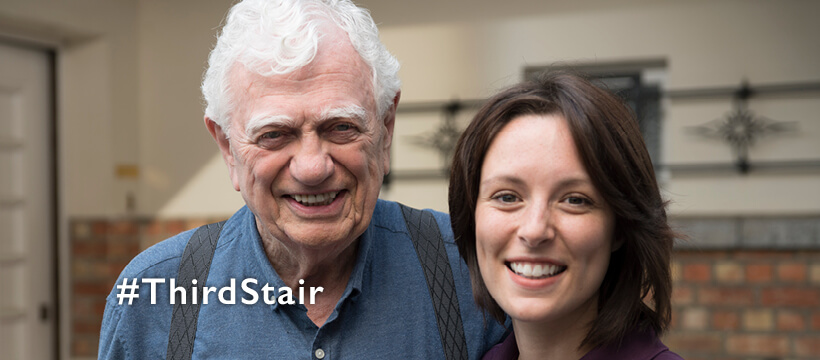 Home care franchise, Home Instead Senior Care, has secured 'first mover advantage', with the launch of a national television campaign, the first for a home care company.
The commercial, titled The Third Stair, tells the poignant story of Stanley who recently lost his wife. Alone in the family home, Stanley misses his wife and hearing her 'tiny feet' come down the stairs (making the third stair creak) each morning.
Worried about his wellbeing, his children suggest he receives some support and introduce him to his new CAREGiver from Home Instead.
Watch the TV advert:
The national launch follows a pilot in the Midlands in January this year which resulted in a fantastic response for franchisees who benefitted from an increase in brand awareness and brand consideration, a significant increase in website traffic and care enquiries as well as a substantial uplift in calls from people interested in working as a CAREGiver.
The commercial's first appearance in this latest campaign was during Emmerdale on October 1st. This was followed by prime airtime across ITV, Channel 4, Channel 5 as well as ITV and Channel 4 digital and Sky throughout October.
Speaking about the campaign, Business Development Director, Ruth Brown said, "This campaign is a game-changer. We have a rapidly ageing population and that brings with it a huge increase in demand for care.
"We want to make 'home care' the first choice for care, rather than a 'care home' and to give people a choice. Television advertising allows us to raise awareness of our brand and services with millions of people across the UK.
"The commercial builds brand awareness and speaks directly to the people who organise care, whilst allowing us to support our franchise network in a way never seen before in our sector. It will help to raise awareness of companionship-based care and increase brand awareness, enabling our franchisees to reach more potential clients and CAREGivers. From a national perspective, it will really put Home Instead as the No. 1 quality home care option."
As ever, Home Instead is ahead of the curve in exploring how to gain maximum exposure for the brand to drive enquiries to their franchise offices. Home Instead Senior Care is the No. 1 franchise company, with over 205 franchise offices all sharing a passion for caring for seniors in their own homes. With a rapidly ageing population there are high levels of demand and as a result, franchisees can build a successful and profitable business.
To be part of this exceptional franchise company which is changing the face of ageing and changing the lives of their franchise owners and their teams, take your first step today and contact their dedicated Franchise Recruitment Manager, Imogen Clarke on 01925 321 836. Find out more about the Home Instead Senior Care franchise by clicking here.