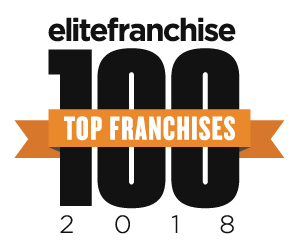 Home Instead Senior Care has been officially recognised as the UK's leading franchise in the Elite Franchise 100. Ending a hugely successful year on a high, that has seen 15 new business leaders welcomed into the network, Home Instead is delighted that it's strong financial performance, unique model and the exceptional level of support provided, has been acknowledged in this franchising 'power list'.
Announced today, the Elite Franchise 100 is a brand new annual league table that celebrates the greatest franchises the UK has to offer. Ranked by a panel of experienced judges, the Elite Franchise 100 was judged on eight core criteria:
Longevity
Financial performance
Network size
Growth
Contribution
Support
Innovation
Future
Home Instead's bespoke model has proven longevity, with the brand operating in the UK for the last 12 years. This year, network turnover was £108 million and 48 of our franchises are on track to achieve an annual turnover of £1 million, with operating profits of 15-20%.
Home Instead Senior Care Managing Director, Martin Jones, said: "We are immensely proud to be recognised as number one in the Elite Franchise 100. Our franchisees are business leaders who have recognised the investment opportunity available, taking their future in their hands. They are now benefitting from the advantages and support of a mission-led franchisor network.
"We want the best, most passionate franchisees, driving our franchise offices forward and acting as the conduits of change – helping us to achieve our mission to 'change the face of ageing'."
Home Instead is proud of its industry-leading support structure, which sees owners receiving intensive support from a dedicated Business Performance Manager and Quality Support Manager, as well a training that covers everything from HR to PR.
Josh Russell, Editor at Elite Franchise said: "As the editor of Elite Franchise, I've had the great privilege over the years of covering some of Britain's most exciting franchises. And the overwhelming strength of the entries we received for the Elite Franchise 100 confirms just how vital the UK franchise community is and the pivotal role franchises play in keeping our economy strong. Home Instead should be extremely proud to have been ranked at number one in what is a very competitive and strong league table."
The franchise, with 190 offices and over 8000 CAREGivers, has 20 Outstanding Ratings from the care regulator, the Care Quality Commission, the highest number of any home care provider.
The Elite Franchise 100 gave Home Instead the opportunity to demonstrate the contribution it makes beyond its strong financial and business performance. As an exemplar provider of dementia care, Home Instead holds dementia workshops in local communities. Delivered free of charge, 40,000 people across the UK have so far taken part.
As via its charity, the Bring Joy Foundation, the franchise network has raised £100,000 since it was launched in 2014, funding events for 7,600 older people.
If you want to make a difference and be part of a bold mission, there are 120 territories available with Home Instead Senior Care across the UK as well as 4 territory resales. For more information cplease fill out the enquiry form below.
What our franchisees say:
"This is a franchise business that truly cares. That starts from the top with the brand's creators and runs through every franchisee in our network. I've followed the model for seven years and have found my niche in life. I have a financially success business, an Outstanding Rating from the CQC and that passion to lead the way in quality elder care."
Clare Jefferies, Home Instead Wimbledon and Kingston
"The reason I chose Home Instead was because it's a proven business model, which is well supported with a wealth of knowledge and expertise across the network. Being named as number one by Elite Franchise is reinforcement of that and acknowledges the power of the Home Instead model."
Simon White, Home Instead Wetherby and North Leeds
"Sometimes I can't believe how lucky I was to find my Home Instead franchise. It's such a great business model and it comes with really fantastic support. Above all, for me personally it's about being firmly rooted in my local community and at the same time part of something much bigger – the Home Instead family – and our global ambitions to change the face of home care completely".
Amanda Hamer, Cheltenham and Cotswolds
If you'd like to find out more about the Home Instead Senior Care Franchise Opportunity, please fill out the enquiry form below and we'll be in touch.