Catering Franchises
Find the best catering franchise opportunities in the UK with Franchise UK
Why are catering franchises so successful?
There are a number of reasons the catering franchises and food sector was well suited to the franchise model.
Invested Management – To be successful in the catering and food sector the management of a restaurant, or catering company has to care. This means monitoring food quality, preparation, health and safety standards, customer service, accounting and handling of mostly cash transactions and more. It was difficult for companies to grow chains of corporately owned restaurants without encountering operational issues. Thus invested management was required to share in the success or failure of the venture, and the rest is history.
Lower Margins – The sector as a whole does not have the profit margins to support a large corporate structure with management that can run the business and maintain a high standard.
Human Resources Constraints – Physically managing millions of employees in the case of some of the largest catering and food franchises poses a monumental task. Many of the largest franchises in this business have tens of thousands of locations with a hundred or more employees in each.
For these and other reasons the catering franchises model is what has allowed restaurant chains to grow and prosper, in an environment that would otherwise make it impossible. This is not to say the success has been one sided in the direction of the corporate offices, the national and international brands these catering franchises have been able to build has allowed franchisees to earn outsized returns for the restaurant industry.
What types of catering franchises are available?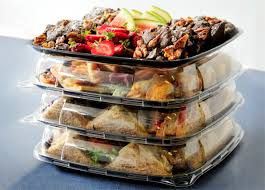 Largely due to the size and scope of the sector, and the variety of food options available the catering and food sector is home to a mind-boggling number of trends and opportunities. It is also home to quite a number of franchise graveyard stories, where the franchisor has grown too quickly and it failed. The other draw back to the sector is dietary fads that can literally wipe out entire players, as the Atkins diet did in the mid 2000s to several major American food franchises.
The trends in the catering & food Franchises sector that are most promising include:
Health Conscious Food Franchises
A major catering franchises and food franchises trend is the rise of the healthy option. There are many players in this segment of the market with offerings ranging from health and wellness foods to various health juices and shakes made ready to consume. Of particular interest these days are catering franchises with on the go healthy options, because they are built with a realisation of just how difficult it is for consumers to eat healty on the go.
Ice Cream & Frozen Yogurt franchises
The frozen treat sector has been particularly hot for the past decade. Frozen yogurt, ice crème, and gelato all offer a sweet treat that consumers love. For the sector the biggest risk is that it will become a fad and shrink just as rapidly as it has grown. But if a franchisee chooses a franchisor to work with that has an open mind to their concept and modifying it to fit the latest trend in the sector it is a good high margin segment to invest in.
Coffee Shop Franchises
Coffee franchises have been around since the earliest days of catering franchises and restaurant franchises. It is one of the segments a would be buyer can get into that is evergreen, in that it does well no matter what the trends are. This is not to say there are no trends within the sector, much to the delight of coffee franchises everywhere the informed consumer is choosing to buy more expensive higher margin products. The trend in coffee is definitely moving towards a higher price point.
Cake Franchises
There has been a rise of new cake franchises in recent years. These cake franchises could include dessert/coffee bar businesses or alternatives such as muffin franchises
Dessert Franchises
Don't just want cake? Well there are now many complete dessert franchises which are coffee shop/restaurant franchises serving cake but also all types of desserts
Other types of catering franchises available include;
Bar & pub franchises
Fast food franchises
Food retail franchises
Ice cream franchises
Mobile food franchises
Restaurant franchises
Sandwich franchises
Takeaway franchises
Wine franchises
How much are catering franchises?
For name brand catering franchises in the UK it would not be uncommon to invest north of £100,000 to acquire the rights to the franchise and open the doors. The reason for this is as an investment buying one of these franchises poses a very low risk. For name brand catering franchises in the restaurant sector with the training, and support given to franchisees failure is very rare. Some less famous food franchises can be acquired for a lower price point. Depending on the complexity, standards, and capital investment requirements these start as low as £15,000.