The franchise sector continues to evolve and diversify, creating new and exciting opportunities for enterprising individuals to own a business. The National Franchise Exhibition, on 5 & 6 October at Birmingham's NEC, is the perfect opportunity to find out more.
It's a well-cited trend that British consumers are spending less on belongings and more on experiences, including fitness, entertainment and eating out. The variety of franchises on offer to support these changing consumer trends, provides potential franchisees with a range of options to be their own boss
Aspiring entrepreneurs can find premises, home or van-based opportunities to meet their lifestyle and income ambitions, and the varied levels of investment required make owning a franchise business a more accessible goal than ever.
The food and drink consumers want, when and where they want it
A growing niche in the restaurant sector is eateries dedicated to offering ice creams and desserts. This dining trend has created new revenue opportunities which don't cannibalise existing concepts. A family might visit one restaurant for their main course or eat at home, but then head to a Creams Café or Little Dessert Shop for a sweet treat.
Franchise brands are of course behind the most familiar coffee shops. The UK coffee market grew in turnover by 7.3% to £9.6bn in 2017, according to the Project Café2018 UK report, and this huge sector has borne new business opportunities. Rather than relying on high street footfall, a new wave of coffee franchises has evolved which brings coffee to the customers at their location.
Mobile coffee vans from brands like Cafe2U and Really Awesome Coffee allow non-town-centre sites to benefit from a premium coffee experience, as specially adapted vans bring gourmet coffee to business parks and events. They also create a unique franchise experience for those looking for a business which gets them out and about and puts them in complete control of their diaries.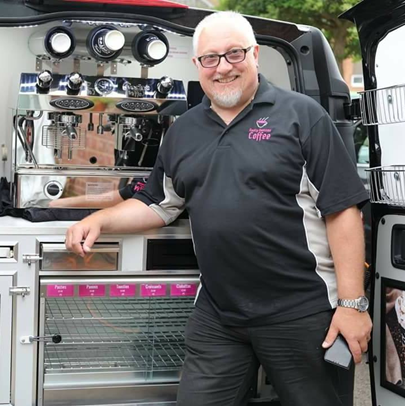 Case Study
Henrik Jespersen enjoyed a long and happy career in the hotel industry with the last two decades spent in senior management positions. In recent years, however, he'd started to miss a more active and people-facing role.
After researching franchising as a route to being his own boss, it was a visit to The National Franchise Exhibition in February 2018 which brought the mobile coffee franchise, Really Awesome Coffee and their state-of-the-art coffee vans to his attention.
After exploring the coffee van and speaking one-to-one with the founder of the business, Kevin Haswell, for 40 minutes, Henrik felt confident he'd found the business for him.
After conducting further due diligence, speaking with existing franchisees and attending a discovery day at Really Awesome Coffee's head office, Henrik decided to make the leap and he signed for the Leicester West territory.
After intensive training on everything from barista skills to the franchise's marketing options, point of sale system and cashing up sheets, Henrik launched his business in June this year. He comments:
"I am really pleased with how things are going. I've got the support of head office but am running my own business. I enjoyed my previous career, but this is a breath of fresh air. There just isn't the stress l used to encounter in my job and I feel far healthier. Though I'm tired physically because I am out and about, I am far less mentally tired!"
"Doing something you've chosen to do, you enjoy doing and have autonomy over really is a positive experience!"
The UK gets more active
The fitness industry continues to grow and presents plenty of opportunity to invest in this lucrative sector.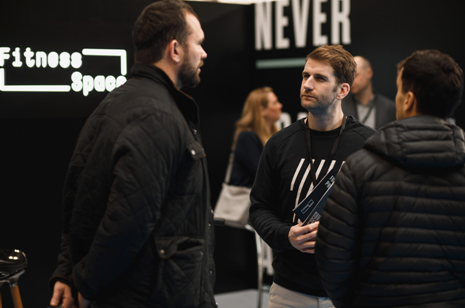 According to the 2018 State of the UK Fitness Industry Report[1], there are over 7,000 gyms in the UK for the first time, total membership is approaching 10 million and market value is just under £5 billion.
Fitness Space are a boutique fitness operator who have grown their network of studios considerably in the last couple of years, and they are the sponsor of The Franchise Exhibitions in 2018.
There are also opportunities outside of gym-based operations, with the likes of Pulse Health, Fitness and Wellbeing delivering exercise classes to care homes, communities and schools.
Sharing the load with parents
Another sector to have grown and evolved in recent times is that of children's activities. Tutor Doctor and Mathnasium are just two names behind franchises offering extra-curricular academic tuition, and The Creation Station and Boogie Beat Music & Movement offer creative and music and dance classes respectively.
Franchises in the children's sector can also be found focusing on sports, holiday clubs, entertainment, and family photography. Such franchises often require lower-levels of investment and present an ideal opportunity to build a business which works around the demands of family life.
Tommy Balaam, founder and owner of Captain Fantastic, ranked as the UK's number 1 children's party entertainers , comments: "We've seen massive growth since we started in 2010. The kids' market is very robust to begin with – parents are always willing to spend on their children, and with both parents working in so many families, outsourcing party entertainment is always a popular choice."
"We've also seen the age range for party entertainment expand, with seven to 11-year-olds strongly influenced by TV talent shows, celebrities and YouTube. Even younger children want to be treated more like adults, sometimes choosing our discos over our magic shows."
"It's an ideal time for people keen to work with children to pursue a franchise which is a lot of fun and which puts them in control of their own work schedule."
You can meet all the franchises named in this article, including Really Awesome Coffee, Captain Fantastic, Little Dessert Shop and Pulse Health, Fitness and Wellbeing, plus more than a hundred other brands at The National Franchise Exhibition at Birmingham's NEC on 5 & 6 October. Every exhibiting brand is accredited by the British Franchise Association (bfa).
[1] Source: www.leisuredb.com/blog/2018/5/16/2018-state-of-the-uk-fitness-industry-report-out-now