Franchise advertising portals, are you getting your fair share?
You advertise on several franchise advertising portals but how do you know if you are getting your fair share of exposure?
Well why not ask Google?
We wanted to share with you some interesting data regarding Franchise UK & our new site https://uk-franchise-opportunities.org. As you may know I have managed Google paid search ( PPC ) for the site & Franchisors for around 5 years now. We invest a lot of money & time into the campaigns & grab as much market share for our budget & Franchise UK advertisers as possible.
Please see the below screenshot;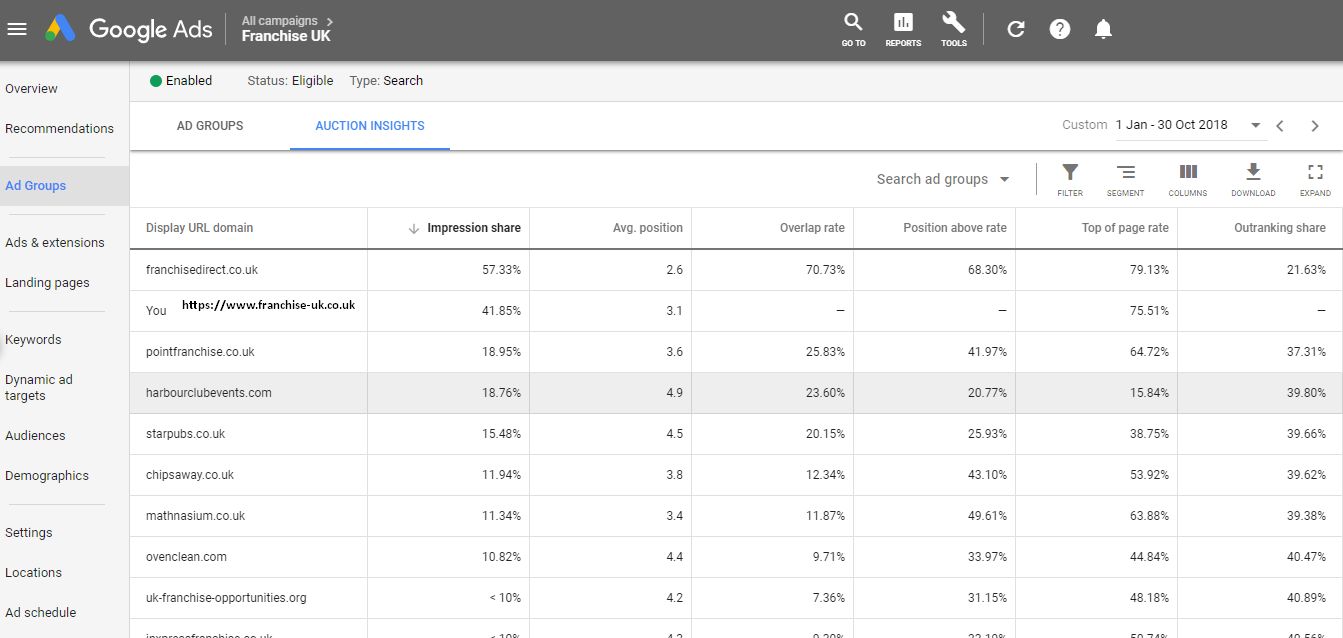 This screenshot show's impressions share via the Franchise UK Adwords campaign with the top 3 being as follows;
Franchise Direct – 57.33%
Franchise UK – 41.85%
Point Franchise – 18.95%
Period – 1st January – 31st October 2018
As with many Google stats there is a lot that goes into Impression Share or IS data so do your research. That said this shows that consistently over the entire year Franchise UK has been a close second to Franchise Direct when comparing impression share, visibility on Google. Please also note that our new site https://uk-franchise-opportunities.org gets just under 10% share which combined makes our advertisers exposure even stronger!
Why is this so important when placing advertising?
As you have seen when you search, when you run a search desktop there are always 4 Google Ads before any Organic listings. Franchise UK's average position as you can see is 3.1 so regardless of where anyone else ranks organically Franchise UK will rank higher for displayed search terms. This means better exposure & more leads for your brand.
Cost comparison?
Some of our competitors charge around £6,000 a year so what would you expect to pay for this sort of exposure?
Does £4.80 a day sound competitive?
How about in addition to this search engine exposure you also receive 2 x solus e-shots & 2 x SMS messages for under £5 a day?
Too good to be true? No, check out the Autumn advertising offers below;
Franchise UK Autumn advertising special offers
The current special offer you get the following;
12 month's Platinum on Franchise UK &  https://uk-franchise-opportunities.org
Plus 2 x solus e-shots
Plus 2 x SMS shots via our own SMS platform
Total cost for 12 months just – £1750 + VAT
For full details & to book online visit  https://www.franchise-uk.co.uk/franchise-uk-special-offers/